Honoring and embracing a rich cultural heritage
October holds a special place in the hearts of SK Food Group. This month, we unite to celebrate Hispanic Heritage Month, a deeply meaningful occasion for many of our employees.
SK Food Group takes immense pride in its diverse workforce, with a significant portion of its employees tracing their roots to Hispanic heritage. This annual celebration serves as a platform to honor and embrace the rich cultural traditions, history, and contributions of Hispanic and Latino communities.
The festivities at SK Food Group during Hispanic Heritage Month reflect the company's unwavering commitment to fostering a supportive and inclusive environment. In each of our facilities, we decorated the break room areas with Hispanic décor and pinatas, and passed out assorted Hispanic candies and Peruvian handmade friendship bracelets, Employees are encouraged to share their personal stories, recipes, and experiences, fostering a deeper understanding and appreciation for the heritage they bring to the workplace.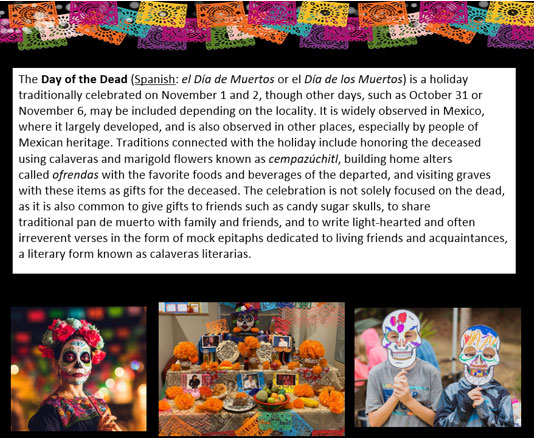 A posterboard created by SK Associates to share the meaning of Dia de los Meurtos.
With the arrival of November, SK Food Group eagerly awaits Dia de los Muertos, a significant Mexican holiday. We hold the importance of this day and the rich traditions it embodies, including ofrendas (altars) dedicated to deceased loved ones and the symbolic Dia de los Muertos sugar skulls. This celebration allows employees to forge deeper connections with their Hispanic heritage, sharing stories of their loved ones and paying tribute to those who have passed away.
By celebrating diversity and honoring these cultural traditions, SK Food Group hopes to fortify the bonds that make the company a dynamic and inclusive place to work but also magnifies the beauty and significance of Hispanic heritage in our workplace.