SK Food Group Launches New Product: Stovers Kitchen Meat & Cheese Boards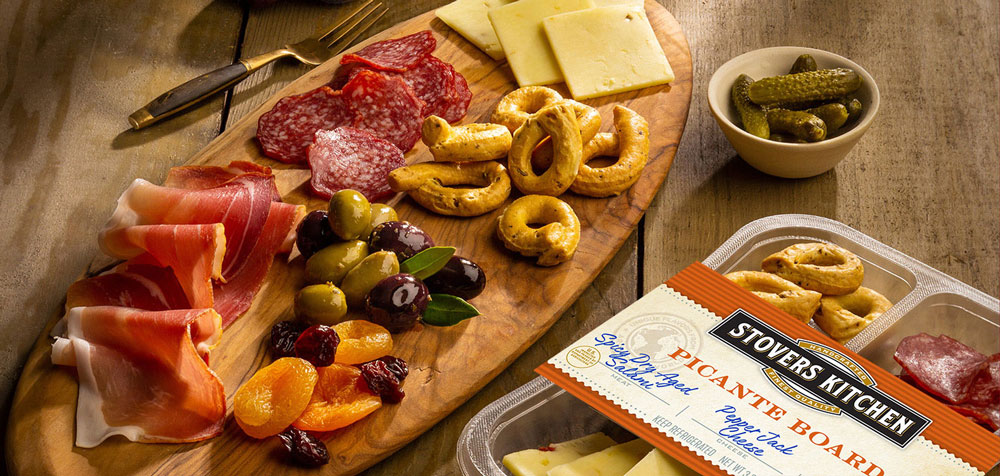 Single-Serve charcuterie boards, packed in a convenient tray, designed for today's on-the-go lifestyle, comes in three styles
Seattle – August 1, 2019 – SK Food Group, one of North America's leading custom food manufacturing companies, has launched its own brand of single-serve charcuterie boards. The Stovers Kitchen charcuterie boards feature meat, cheese, crackers, breadsticks and fruit item combination packs, served in a convenient tray that are ready to enjoy anytime, anywhere.
"We know that time is a scarce commodity for many people, yet they don't want to sacrifice quality or flavor in their on-the-go food choices," said Steve Booker, president of SK Food Group. "So we created created Stovers Kitchen Meat & Cheese Boards with artisanal ingredients and paired them together, creating unique, one-of-a-kind flavor combinations. They are perfect to grab and take to a picnic, a weekend tailgate or hike, or just to relax on your balcony after a busy day at work when the last thing you want to do is think about cooking."
The Stovers Kitchen single-serve charcuterie boards come in three styles:
Mustard Seed Board: in this board, German salami is balanced by creamy, nutty gouda and tart-sweet dried cranberries.
Picante Board: a selection of spicy, habanero-infused salami, creamy pepper jack cheese and crispy crackers from the Puglia region of Italy.
Old Forest Board: a selection of smoked Bavarian-style salami, rich cheddar cheese studded with smoked black peppercorns and everything breadsticks.
---
About SK Food Group
Founded in 1943, SK Food Group is a North American custom food manufacturing organization serving, foodservice operators, mass merchandisers, grocery stores, convenience stores, and other retailers. Their delicious on-the-go products feature everything from custom-made sandwiches and wraps to chargrilled chicken and Angus burger entrees. The company's diverse world-class products are sold throughout the U.S. SK Food Group's R&D facility and culinary capabilities offer Private Label clients a high level of product customization, consistency and quality.
SK Food Group is headquartered in Seattle, Washington and operates three manufacturing facilities in the US (Reno, NV, Phoenix, AZ, and Columbus, OH). The company employs nearly 1,500 associates. Visit www.SKFoodgroup.com
###
Contact:
Product Inquiries: ChefHolly@stoverskitchen.com
Sales Inquiries: Ken@stoverskitchen.com